Contibuted Article by Ravi Soni 
Top tips for effective contact center management
Influential administrators in the call centre business must remain acquainted with every element of their industry, lead by example, and operate within confined budgets that can be overpowering. However, you can better manage your call centre with these effective tips below.
So let's get started, shall we?
1. Comprehensively onboard and train your agents
Even after hiring suitable agents, your job as a manager is never done. Rather it has just started. According to a report, around 87% of employees in a call center believe that training and development are important in the workplace. It begins with a comprehensive onboarding process, self-assessment, periodic training, and monitoring throughout their job span with the contact center.
In addition, both star agents and poor performers require comprehensive onboarding training. However, the only difference is how frequently you conduct your onboarding training and the strategic emphasis of the training.
For instance, training for poor performers should always remain focused on negative client feedback and QA scorecard assessments. Furthermore, using performance data, you should concentrate your actions on which aptitudes need progress and provide them with training to fill those learning gaps
2. Employ the right agents
Contact Center managers are only as effective as the workforce behind them. Therefore, it is imperative to employ suitable agents who possess the required hard and soft aptitudes to accomplish their job. It demands the managers put much of their energy and time into the recruitment process when scanning resumes, checking references, and interviewing.
Furthermore, managers should concentrate on employing a workforce that exemplifies client assistance soft skills such as initiative, adaptability, teamwork, compassion, virtue, problem-solving, communication aptitudes, and emotional intelligence.
While these aptitudes are challenging to gauge, they are the most reasonable indicators of success within every call center. The key is to create the list of aptitudes most required within your workforce and then employ agents who maintain these required attributes.
3. Concentrate on Employee Engagement
An engaged workforce is a happy workforce. Such a workforce is more productive, innovative, motivated, and loyal and is more likely to remain associated with your contact center for a long time. For example, a successful call center management team always emphasizes employee attention as the core focus of their administration strategy, and they:
Deliver exact expectations, including objectives and KPIs, so your agents understand what they are working toward in the organization.
Help their agents' actions through onboarding, tools, and training.
Present routine feedback—both negative and positive.
Listen to the call center agents' feedback, letting their opinions be heard during the decision-making process.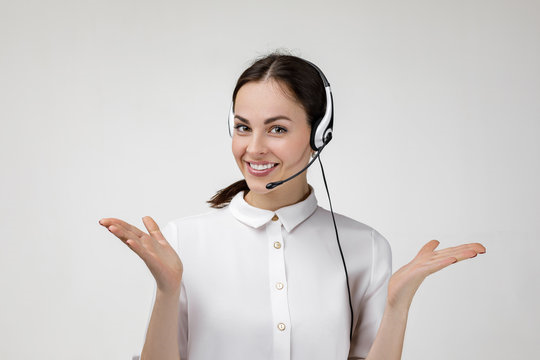 4. Guarantee Appropriate Scheduling For Effective Management
Operating in a call center is challenging. That pressure can impact your employees. So the point they start to feel overworked, their ability to function at a high-level decreases. That's where appropriate scheduling comes into the picture. Providing your employees adequate rest to refresh and refocus can guarantee that your clients obtain the best service.
However, planning a downtime can be challenging to schedule even for a small team. For instance, to ensure the maximum efficiency for your call center, it is prudent to factor in employee ability, peak and low hours, employee availability, and numerous others. It can assist you in turning the scheduling into a full-time job by using the most suitable tools available for time tracking.
5. Build a highly communicative call center
For effective management of your center, it is essential to maintain a holistic communication style. Also, as a manager, you must build ample opportunities to discuss your agent's performance and objectives. By creating a communicative call center management approach, you provide your agents with an outlet to communicate their thoughts and allow you to share your thoughts and opinions on their work performance.
6. Regularly QA your agents' calls
Regularly QA your agents' calls. Listening to the recordings of your agents' calls will allow you to evaluate your workforce's strengths and weaknesses to manage the call center better.
By executing a QA (Quality Analysis) compliance, you can prioritize your calls based on agents' performance. And with this, you can emphasize which client-centric actions accomplished favorable outcomes and which failed. So we can say that the definitive objective of listening to your agents' calls is to assess if your client service agents are fulfilling client experience goals.
7. Evaluate call center QA every day
If you aspire to understand how to handle a call center efficiently, you must initially comprehend how you function, which requires day-to-day quality assurance. This routine quality assurance helps you evaluate your leaders, agents, and clients' performance at your call center.
In this way, you can decide what changes are required and where. It offers you a beginning point for progress. You can evaluate every communication in real-time with the help of a streamlined internal quality validation process.
8. Regularly engage with customers, passives, promoters, and detractors
As a manager, you might incorrectly think you don't have to engage with your clients unless something goes amiss and your intervention is required. Nevertheless, that's not the point at all. One of the most crucial supervisor skills is replying to positive and negative customer feedback, and you must:
Follow up with the promoters to thank them for their commitment and exhibit your company's persistent dedication to their delight.
Get in touch with detractors and passives to understand how your call center workforce could enhance their efforts to better fulfill the customers' requirements.
9. Focus on the data and track KPIs
Reliable data must support decision-making. As a manager it is imperative to remain familiar with your call center's most crucial performance metrics based on KPIs (Key Performance Indicators) and employ that data to understand your processes. The key is to estimate accurate information based on your company's strategic goals and objectives. In addition, within your strategic call center information framework, you should use a tool that provides information on:
Net Promoter Score (NPS) metrics
Customer Satisfaction (CSat) indicators
Call abandonment
Average handling time
Call resolution
Crucial KPIs as delineated by your QA strategy
10. Give targeted feedback to your workforce
Periodic quality-of-service review is crucial for the prosperous working of any contact center. Take some time to give feedback on your employee performance and then remain ready to take some feedback for workplace improvement.
11. Delegate duties to your workforce
It is easy for call center managers to get caught up in the precise details of the job. Nevertheless, numerous small jobs need to get accomplished for a center to operate efficiently.
There are a lot of high-level strategic decisions that you must take to keep your center running at its best. It is better to delegate some duties to your workforce so you can better concentrate on issues that demand urgent attention.
12. Always remain on top of your managerial tasks
As a call center manager, you strive hard to make your call center operate smoothly.Hence, it is equally important to take out time for things like calculating profit margin, managing timesheets, training, and project planning as it will offer a solid foundation for your team to work on.
The Bottom Line
To sum up, we can say that with the right technology and tools and following some effective tips above, you can better manage your contact center to improve your customer service. By following these tips, you can provide your agents with everything they require to effectively and efficiently perform their tasks. If you are looking for cutting-edge call center management tools, there are many leading online platforms that offer comprehensive solutions that will help you offer exceptional client service, better agent satisfaction, and improved productivity. For reference, start with the CrmXchange Vendor Directory.